Click here for 2015 Sale CatalogueClick here for Supplementary Sheet
Click here for 2015 Pre-Sale Video
Click here for Individual Sire Videos
Click here for 2015 Angus LotsClick here for 2015 Charolais Lots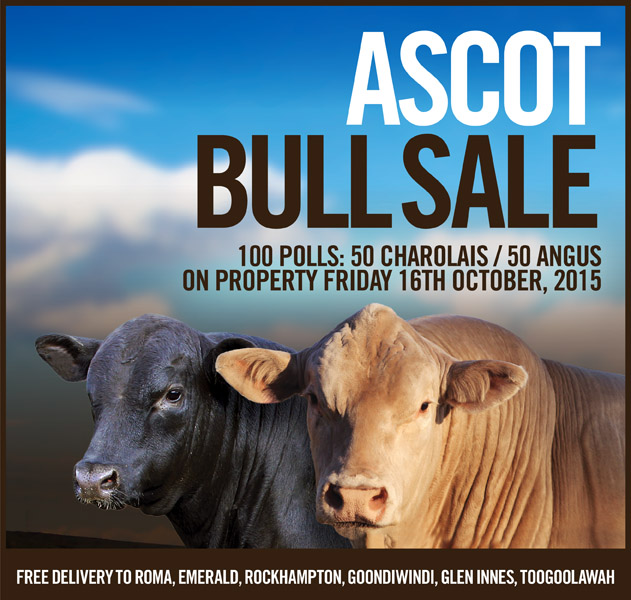 2015 Pre-Sale Video
All polled bull sale 16th October, 2015 – 1pm
100 Polls 50 Angus Bulls / 50 Charolais Bulls

• 80 Rising 2 year old bulls
• 20 Working age yearlings
• 40 Bulls will suit heifer matings
Firstly, and most importantly we wish to thank last year's buyers and bidders (including paddock bull buyers) for your tremendous support.
Our Angus and Charolais stud herds continually grow in quality and quantity at our Glenn
Innes property 'Khancoban' and home property 'North Toolburra', Warwick. This has allowed us to present 100 Polled Bulls in this years sale.
We are also able to offer more rising two year old bulls — as requested by many of our clients. There are approximately 80 bulls that are rising two year olds.
We are still passionate about selling working age yearlings so we also have approximately 20 on offer. Many bulls in this year's sale will be suitable for joining to heifers which is important at present with some areas re-stocking with heifers.
All the bulls are commercially focused with MSA standards in our focus. This makes it easier for our clients to achieve MSA grading with their progeny and increasing returns.
We are equally passionate in focusing on the following traits: polled, calving ease, docility, weight for age, early to mid- maturing, positive fat and easy finishing. Two market leading breeds under one roof.
With our Charolais breed, we are continuing in the pursuit of thick, positive fat, calving ease bulls and POLLED. We carry out DNA testing on most bulls and females for the
PP (Homozygous polled) gene. Animals with this gene are more likely to produce ALL polled progeny – even out of horned animals. About half of our females now have this gene. We are very careful in breeding not just for the polled gene but continue to focus on all the carcass traits as well.
Grand Champion Ascot Juggernaut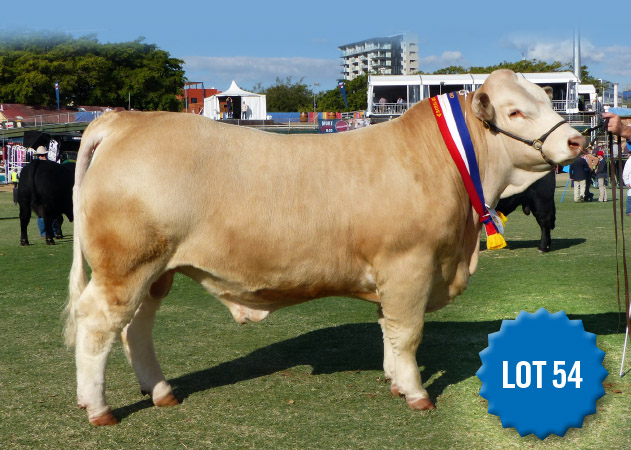 A prime example of our methods' success is proven with one of our home-bred bulls, Ascot Juggernaut (a DNA tested homozygous bull). He won the title of Grand Champion bull at both Beef Week and Brisbane Royal, 2015; the two biggest industry shows in the Southern Hemisphere (Picture Below).
Ascot Juggernaut nearly has everything as far as carcass attributes; plus he is homozygous polled. He will feature in this years sale. We will also be keeping semen shares in this bull.
We have approximately 12 other bulls with this rare DNA tested homozygous trait in this year's sale.
With our Angus breed, we also focus on carcass traits, doing ability, muscle, bone and docility. On offer are medium framed bulls that will suit most applications.
We have used Trait leading bulls from Australia and around the world for sires of this year's sale bulls: Temania Berkley, Temania Emperor, Carabah Docklands, Millah Murrah Highlander, Irelands Gapsted, Carabah Direction, Dunoon Evident, Booroomooka Theo, SAV Net Income, Ayrvale Bartell, Regent, Millah Murrah Highlander and the Australian Record priced bull Irelands Galaxy which sold for $115,000. Many of our bulls are from
females purchased from the renowned and record-breaking Millah Murrah herd.
All sale bulls are semen and vet tested, vaccinated for tick fever, 7-in-1, Pesti, Vibrio and 3 day sickness. All are fully guaranteed.
All our females and bulls in the sale in both breeds are fully registered and fully breedplan recorded which make bull selection for the traits you are chasing easier.
To show the power of cross-breeding, we will have three Charolais/Angus cross steers on display at the sale. These will then be auctioned; with the highest price proceeds going to "Cherish". This charity we support assists in finding a cure for ovarian cancer.
We are looking forward to catching up with you at the sale. complimentary morning tea, lunch and drinks will be provided.
Yours sincerely,
Jim & Jackie.
Agents' details:
Stud Stock & Blood Stock
Mike Wilson
0418 960 036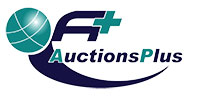 4% commission to outside Agents