By PETER LOWE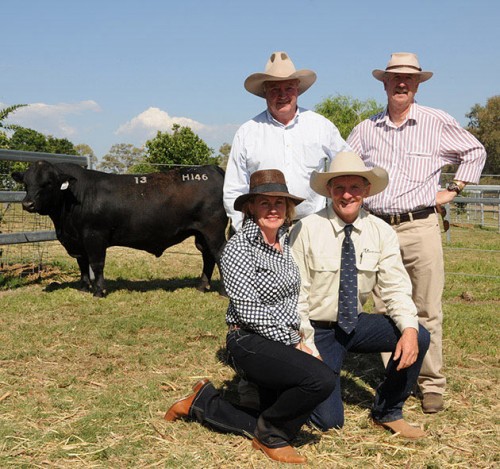 QUALITY Angus yearling bulls sold to $30,000 at Jim Wedge and Jackie Chard's second annual Ascot All Polled Bull Sale, North Toolburra, Warwick last Friday.
The sale topper Ascot Evident H146 was knocked down to the partnership of Australian Livestock Genetics Investments (ALGI) and Knowla Angus stud, Moppy via Gloucester, New South Wales after a $30,000 bid from their agent Mike Wilson, Stud Stock & Bloodstock, Armidale, NSW.
Ascot Evident H146, a 16-month-old son of Dunoon Evident E614 from Millah Murrah Abigail F116 which was ranked in the top one percent for 200, 400 and 600 day weights and carcass weight in addition to the grass and short fed and terminal indexes.
ALGI principals John Hallman and Ian McDuie will retain the semen rights in the bull and intend to market his semen both locally and internationally while James and Ted Laurie of Knowla Angus will take possession of Ascot Evident.
Demand for the Angus bulls was exceptionally strong given the prevailing seasonal conditions with 25 Angus bulls changing hands for a $5640 average.
Another interstate buyer active was Winsome Quilty, Craigieburn, Glencoe via Glen Innes who paid the $10,000 second top money for Ascot New Design H7, a heavy boned, deep-bodied son of Sitz New Design 458 (USA) with a massive scrotal of 45 cms which ranked him in the top one percent of the breed.
Mr Quilty also bought another pair of quality bulls with balanced EBVs for a $4750 average.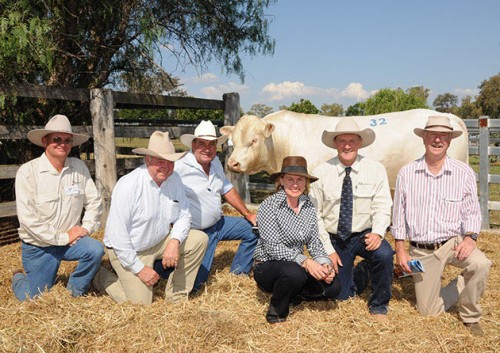 The heaviest bull in the catalogue at 1122kgs and top selling Charolais at $16,000 was Ascot Grand Redemption G52E (P) was also bought by Australian Livestock Genetics Investments and Michael, Jenny and James Millner, Rosedale Charolais, Blayney, NSW.
Ascot Grand Redemption will be shared on a similar basis to the $30,000 Angus bull with possession going to the Millner family and the semen marketing rights to ALGI.
He has a blue blood pedigree being by the Canadian champion bull in Harvie Redemption (P) and is out of the former Brisbane interbreed champion female in Gobongo Juliette B43E (P) and is also ranked in the top one percent for all growth indexes and scrotal circumference.
The biggest order on the day came from Ian and Jane Murray, Kindee Pastoral Company, Toowoomba who bought eight bulls which included six Charolais and a pair of Angus bulls for a $4875 average. Included in their order was the Charolais bull, Ascot Guinness G25E (P), a long-bodied, smooth coated son of Paringa Rio Bravo D213E (P) with positive fat and low birth weight figures at $7500.
The Murrays run a substantial cross breeding program incorporating 2500 Santa Gertrudis/Charolais cross females across two properties, Cowangah, at Taroom and their Injune district holding Muya.
Central Queensland based stud masters Chas and Judy Nobbs, Cordelia, Moura bid the $11,000 second highest Charolais money for Ascot Grandeur G174E (P), a high growth son of Doc Silver 362 (P) with outstanding carcase attributes.
They also bought another three quality Charolais bulls for a $5000 average for their Brahman based commercial herd on Yandaburra, Springsure.
A total of 51 bulls were sold for a $5490 average which included 26 Charolais bulls for a $5346 average representing a 93 percent clearance of the catalogue.
Ascot Cattle Company co-principal Jim Wedge said his sale was well above their expectations considering the adverse seasonal conditions and was pleased with the support from his regular clients and new buyers.
Agents; Elders, Colin Say & Co., Landmark and Mike Wilson, Stud Stock & Bloodstock.