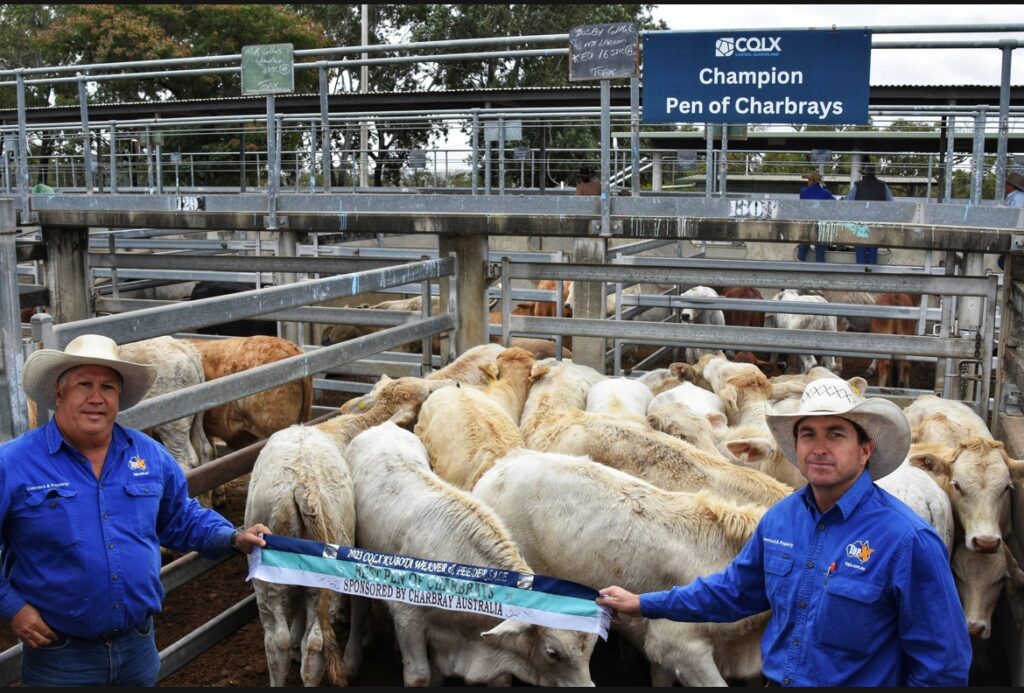 CHAROLAIS sires are adding depth to Stephen Busby's Brahman-based herd, producing sought-after weaners and giving him a line of exceptional females.

What began as a herd of four cows 24 years ago has slowly grown to a high quality crossbred herd of 1000 breeders run on 7300 hectares of leased coastal country at Targinie, north of Gladstone.
Mr Busby, who works alongside his daughter Shannon, 22, has made the most of any opportunity to grow numbers over the years, but since adding Charolais to the mix, he's been refining his females and plans to keep many of the Charolais-cross calves.

"The steers are cracking calves, but the heifers are even better," he said.
On top of his lease country he has a 900 acre cropping block north of Biloela, with 380 acres flood irrigated.

To make the most of market changes, Mr Busby has built a 300-head feedlot at the Biloela property, which is used to finish steers on grain grown on the property.

"I've always loved the Charolais breed, and these Ascot bulls have really worked well for me. They're quiet, they keep marching on, and you can look at a crop of calves in the paddock and they're very even.
"It's the first time I've ever seen that consistency of cracking calves.

"I've got some beautiful crossbred Brangus calves and they're okay, but they don't compare to the Charolais and the Angus don't handle the country as well, plus they have the past problems with the black coat."

There was plenty of competition for his most recent run of weaners at Gracemere, with his 251.25kg Charbray calves being awarded champion pen and making 382.2 cents a kilogram.

"We'll keep most of those heifers because they're exceptional calves. We'll retain all the heifers that have the clean coat, and it's the same with Brangus."

Ascot Charolais bulls have been used since 2020, and finding them was a happy accident, as Mr Busby was originally looking to use Ascot's Angus bulls.

"I'd been to Rockhampton and bought a b-double of Montroes Brahman heifers and wanted some Angus bulls to put over them," he said.
"I had days mixed up and jumped on AuctionsPlus too late and almost all the Angus bulls had sold.
"I bought one black bull, then the Charolais came on. They were cheaper than the Angus bulls and they looked good so I bought three of them."

Mr Busby had used Charbray bulls for a while, but given the predominantly grey Brahman breeder herd, there was too much Bos Indicus content in the progeny.

"When you put a Charbray bull over grey cows the calves are considered Brahman so I'm consistently 30 cents behind at the saleyards," he said.

Market versatility is a big benefit of using Charolais bulls, with the weaners heavy enough to take advantage of good prices at the saleyards, but also having the ability to grow out and meet the EU market for finished cattle.

The calves enter the feedlot around 380kg to 400kg and they're finished to about 500kg, for a 240kg dressed weight.
"Having set that up is another tool because we can meet the EU premium through that," Mr Busby said.
"I love the EU job because the heifer portion is only 5 cents a kilo less when you're killing them.
"It's not such a big variation like the 30 to 40 cents difference between heifer and steers in the yards, then on top of that it can be a 30 to 40 cent drop for non EU cattle."

Mr Busby is also willing to take advantage of other opportunities, like selling breeders.
The first calves from the Ascot bulls were sold to a restocker at Springsure as part of a unit.
"I put those Charolais bulls with 110 heifers and they all gave me cracking calves. Buyers at Springsure were prepared to pay $3000 a unit and they took the lot. I'm always chasing turnover, and I'm happy to trade cattle and work with the market."
Story: Ruth Schwager Published Queensland Country Life 13.7.23