We are a customer focused Angus and Charolais breeding operation which aims to deliver low risk, thick, polled bulls, bred with an MSA targeted approach.
Our breeding headquarters are located at North Toolburra Station, Warwick, Queensland. We also have a breeding operation at Glen Innes in Northern NSW. We have around 600 stud breeding females consisting of roughly 350 Angus and 250 Charolais.
We feel strongly that the industry will benefit from bulls that have had been bred under our strict standards.
These strict standards are designed to produce bulls that will improve the long term efficiency and profitability of the beef industry.
When you buy an Ascot Angus or Charolais bull you can be assured that the very best of both modern and traditional methods have been used. The result is progeny that will calve easily, grow, finish quickly and grade highly.
Cattle are our passion and we look forward to hearing how we can work with you. Inspections are welcome at any time by appointment or visit our web site for news and updates.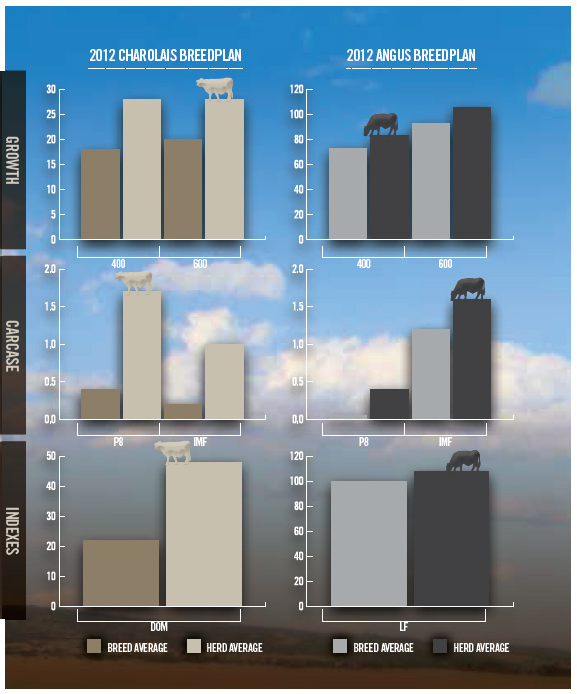 Phenotype
Whilst we use the very latest of breeding technologies, phenotype is a major part of our breeding program. Our bulls will be quiet, polled, have great skin type and exhibit, weight, softness and easy doing ability.
Carcase Focused
We use ultra sound scanning for EMA, IMF% and fat cover. Combined with weight for age data, this gives us strong information on what our cattle can do. This data is submitted to Breed plan and is also available to clients whilst assessing.
Growth Focus
Weight is money. With that said we are focused on cattle that can grow quickly to MSA standards. The added benefit of this is moderate mature cow weight thus maintaining productive and efficient replacement females.
Calving Ease
We weight every calf born. This ensures that the data supplied is 100% accurate.
So whether you buy a terminal or a self replacing sire from us you will have an accurate estimation to the weight of your calves. We also record for days to calving, calving ease, scrotal and gestation length.
Market Focus
MSA grading is the basis to our selection criteria. Our bulls will add carcass value and eating quality to your progeny. We select for positive fat cattle, (for both fertility and finishing ability) and for cattle that can exhibit marbling.
Independently Assessed
All bulls are semen tested and vetted for soundness.
Health
Every bull sold has been vaccinated for Pesti Virus, 7 in 1, 3 day, tick fever, and Vibrio.
Data Recorded
We submit data to Breedplan for the following traits. CE, CE Dtrs, GL, Bth Wt, 200D, 400D, 600D, Mat. Cow Wt, Milk, Scrotal, Days to calving, Carcase Wt, EMA, Rib Fat, Rump Fat, Retail Beef Yield, IMF%, Long Fed, Heavy Grass Fed, Short Fed and Terminal Indexes.